Guidemaster: Smartwatches worthy of replacing your favorite timepiece
If you hate looking at your smartphone all day, you should consider getting a smartwatch. While it may seem counter-intuitive to get a new gadget to lessen your dependency on another, it's more effective than you think. Smartwatches take the most crucial parts of a smartphone—call and text alerts, app notifications, and quick controls—and put them on your wrist.
That means no more fumbling with your smartphone during a meeting to silence a call, no more checking Twitter or Facebook every two minutes for the newest post. Instead of absentmindedly staring at your smartphone's display, the most important information hits your wrist as it happens. As wearables, smartwatches can also track daily activity, and some even double as high-end fitness watches equipped with heart rate monitors, GPS trackers, music storage, and more.
Today, your smartphone remains the biggest factor to consider when you buy a smartwatch. Most smartwatches must pair to your phone to receive information, so the smartwatch you choose must be compatible with your handset either through its operating system or a companion mobile app. So to make the selection process easier for would-be watch wearers, we've revisited all of the smartwatches we've reviewed recently and picked out the best ones for all types of users with all types of phones.
Note: Ars Technica may earn compensation for sales from links on this post through affiliate programs.
Best marriage of fitness and tech
Apple Watch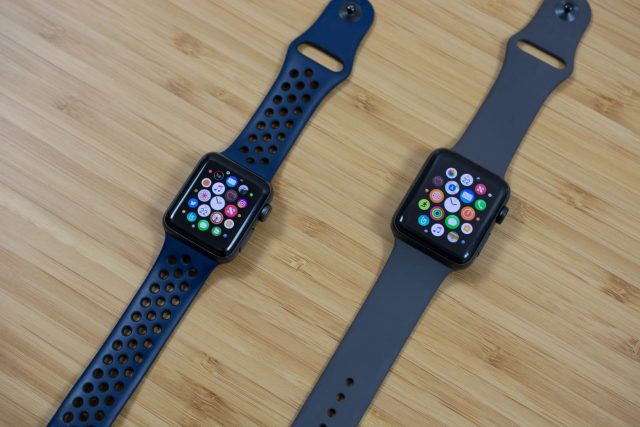 The obvious choice for iOS users is the Apple Watch, which has the best combination of "smart" features and fitness features you'll find in any smartwatch. Apple's watchOS delivers rich notifications from both Apple and third-party apps, and it offers a number of ways to interact with many of those alerts. The most useful are its iMessage responses, which let you reply to text messages with pre-fab phrases, dictate responses with your voice, scribble words on the watch's tiny screen, or quickly send an emoji.
Specs at a glance: Apple Watch S3
Price
Starts at $329
OS
watchOS
App store
Yes
GPS/HRM
Yes/yes
Music storage/streaming
Yes, streaming only available on Series 3 with LTE
NFC payments
Yes, Apple Pay
Waterproof
Up to 50 meters
Sizes
38mm, 42mm case sizes
Battery life
About 2 days
With the Apple Watch apps currently available, you can get news headlines and sports scores sent to your wrist while you control smart home devices, get turn-by-turn driving directions with haptic feedback and more. Apple Pay lets you hold up your Watch to an NFC reader to check out without a wallet. You can even make phone calls if you have a Series 3 Watch with LTE; you can use the watch to speak and listen to your caller without the help of your iPhone.
Apple has done a good job improving the fitness features of the Apple Watch over time. Its Workout app is robust and easy to use, featuring a plethora of indoor and outdoor workouts, along with music controls embedded in the watch's workout screens. The watch's unique water-ejection mechanism lets you track swimming, and the device's heart rate monitor is accurate. With GymKit, the watch can connect to gym equipment to share heart rate and distance data with each other. The watch delivers all of this with battery life that can easily last up to two days on a single charge. If you're a diehard iPhone user, the Apple Watch is the no-brainer wearable choice.
The Good
Respond to messages from your wrist using canned replies, dictation, scribbles, or emojis.
Workout app is comprehensive and easy to use.
Apple Pay lets you leave home without your wallet.
LTE models let you stream music and make/take calls from your wrist.
The Bad
Only works when paired to an iOS device.
LTE music streaming only works with Apple Music.
Only comes in one shape/style (the "iPhone on your wrist" look).
Apple Watch Series 3
Ars Technica may earn a commission on this sale.
Best smartwatch to pair with any smartphone OS
Garmin Vivoactive 3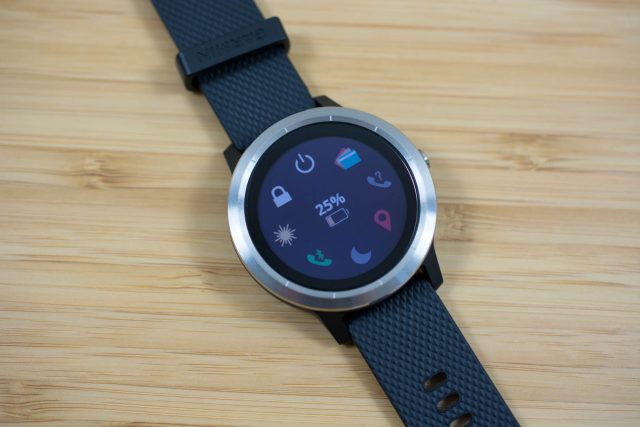 Specs at a glance: Garmin Vivoactive 3
Price
Starts at $269
OS
Garmin's proprietary OS
App store
Yes
GPS/HRM
Yes/yes
Music storage/streaming
No
NFC payments
Yes, Garmin Pay
Waterproof
Up to 50 meters
Sizes
One size
Battery life
7 days, or 13 hours in GPS mode
No matter if you have an iPhone or an Android phone or if you switch platforms regularly depending on your mood, the $269 Vivoactive 3 works with most smartphones. Android Wear and watchOS have the OS limitation—if you're not paired to the right smartphone, not every feature of the smartwatch will work. But since Garmin makes mobile apps for both Android and iOS, the Vivoactive 3 is fully compatible with a wide range of smartphones.
The Vivoactive 3 delivers all smartphone alerts to your wrist, supports Garmin Pay, and has music controls, standalone apps, and watch faces you can download from the Connect IQ store. The company's NFC payment system works similarly to Android Pay and Apple Pay, letting you leave home without your wallet and pay at stores by holding your wrist up to a compatible reader. Compared to other smartwatches, the Vivoactive 3's battery life is remarkable: it'll last at least seven days on a single charge or up to 13 hours in GPS mode.
Several features make this device a great fitness tracker, too—onboard GPS is one of them. In addition to a location chip, it has an accurate heart rate monitor, a rep-counting feature, and Garmin's typical suite of fitness sensors that allow it to track all-day activity and a bunch of exercises. Garmin supports sport profiles that many other devices don't, including skiing and stand-up paddle-boarding, so there's a good chance that the device can track even your most obscure physical hobby.
While it doesn't have onboard storage for music, the Vivoactive 3 has every other feature you'd expect in a high-end smartwatch, making it a no-brainer option for those who aren't married to a particular smartphone OS.
The Good
Works with Android and iOS devices.
Connect IQ store offers downloadable apps, watch faces, and widgets.
Supports Garmin Pay.
Tracks a plethora of exercises, including weight-training reps.
Great battery life.
The Bad
No onboard music storage.
Garmin Vivoactive 3
Ars Technica may earn a commission on this sale.
admin
October 22, 2020