Guidemaster: The best dash cams worthy of a permanent place in your car
If you've ever been in a fender-bender or a serious car accident, you can appreciate the importance of a dash cam. These tiny car cameras stick to your windshield and silently record driving footage, capturing all the strange, mundane, and perilous things going on in front of your car. In addition to peace of mind during daily commutes, they can provide information footage to law enforcement, insurance companies, and other parties in accident situations, monitor your car when you're not around, and sometimes capture fun videos of you and your friends on a road trip.
But with the numerous big and small companies making dash cameras now, wading through the sea of devices before you choose one to buy is a formidable task. Ars reviewed the newest dash cams and revisited our testing of existing devices to pick the best dash cams available now.
Note: Ars Technica may earn compensation for sales from links on this post through affiliate programs.
Best overall
Garmin Dash Cam 55
I can sum up my philosophy about dash cams in one sentence: the best dash cams disappear in your car, monitoring your surroundings and only making themselves known when you need them most. Garmin's $199 Dash Cam 55 does this quite well—it remains one of the smallest dash cams I've tested, and that makes a difference when you're figuring out the best placement for it on your windshield.
Specs at a glance: Garmin Dash Cam 55
Price
$199
Camera quality
3.7MP camera, 1440p video at up to 60fps
Field-of-view
122 degrees
Audio recording on/off option
Yes
Display
Yes, 2-inch LCD
GPS
Yes
MicroSD card
Up to 64GB
Loop recording
Yes
Operational temperature range
-4°—131°F
Mounting method
Adhesive with magnetic mount
Power source
Car power outlet
Warnings
Forward collision, lane departure, incident detection (G-sensor)
Voice commands
Yes
Mobile app
Yes, for videos only
Besides recording high-quality footage both during the day and at night, the Dash Cam 55 supports loop recording, so you don't have to worry about manually deleting old footage from the microSD card. In fact, you'll only need to remove the microSD card if you want to view footage on your computer. The Dash Cam 55 connects to Garmin's VIRB app, allowing you to wirelessly view and download video clips to your smartphone without touching the memory card.
In addition to lane departure, forward collision, and incident detection via its G-sensor, the Dash Cam 55 emits audible alerts when you approach a red light or traffic camera. This is a convenient standard feature of the device, and those who find it useful can pay $25 per year to have updated map information from Garmin's Cyclops service.
But Garmin's camera-controlling voice commands really make the Dash Cam 55 worth its $199 price tag. Without any extra apps, programs, or services, you can say, "OK Garmin, save the video" to immediately save your last piece of footage. You can also ask the device to take a photo, record audio, and a few other things that make recording and keeping footage easier while driving.
Garmin sells an updated version of this dash cam—the Dash Cam 65W—but the only added benefit is a wider field of view. Garmin built the Dash Cam 55 to be a device that you never have to touch again after installing it, even in perilous situations in which you need to save driving footage for further review, making it ideal for those who want an effective, watchful eye with them on the road.
The Good
Convenient voice commands to take and save footage.
The Bad
Slightly narrower FOV than most.
Garmin Dash Cam 55
Ars Technica may earn a commission on this sale.
Best budget dash cam
Yi Dash Cam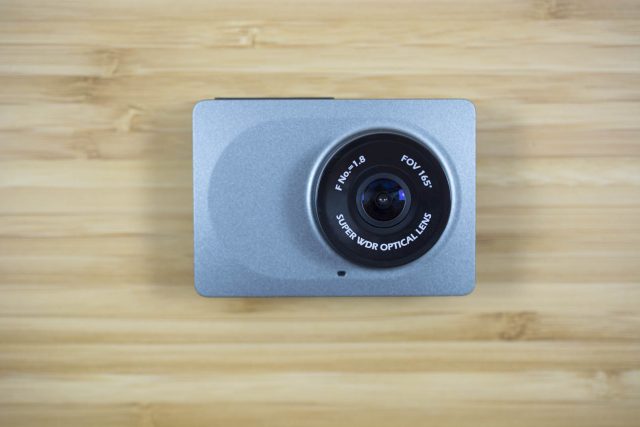 Specs at a glance: Yi Dash Cam
Price
$47.99
Camera quality
Up to 1296p at 30fps
Field-of-view
165 degrees
Audio recording on/off option
Yes
Display
Yes, 2.7-inch LCD
GPS
No
MicroSD card
Up to 64GB
Loop recording
Yes
Operational temperature range
Not specified
Mounting method
Adhesive with swivel neck
Power source
Car power outlet
Warnings
Forward collision, lane departure, incident detection (G-sensor)
Voice commands
No
Mobile app
Yes, for videos and social network
If you attempted to make a more affordable version of the Garmin Dash Cam 55, you'd come out with the Yi Dash Cam. At under $50, Yi's car camera looks like a bulkier version of Garmin's device: a larger rectangle with a lens on its front, a 2.7-inch LCD display on its back, and navigation buttons on its bottom edge. The camera saves footage via loop recording to a microSD card, but it also has its own Wi-Fi network and app so you can view clips on your smartphone in the Yi camera app.
Aside from their differences in specs and size, Garmin's dash cam has the benefit of voice commands, while Yi's camera doesn't have any voice functionality. This means you'll have to manually download clips to your smartphone to ensure you have them for later, or you'll have to remove the microSD card and save footage to your PC. The Yi mobile app is surprisingly good—it sections video clips off by date and lets you view them in the app or download them to your device with just a few taps. The dash cam's Wi-Fi network is always on (unless you change that setting manually), making it super quick to connect to and play footage on your smartphone.
There's a makeshift social aspect of the Yi camera app as well, but you can easily ignore it if you have no desire to share footage with strangers. The app also has a camera settings page that lets you change the dash cam's settings from within the app rather than using the buttons on the device itself.
The Yi Dash Cam is fairly standard otherwise: it shoots videos at up to 1296p at 30fps with a 165 FOV, emits lane departure warnings when you have its "advanced driver assistance system" on, and saves accident-related footage when detected by its G-sensor. GPS is one of the few things it doesn't have, so it cannot stamp videos with your coordinates like it will with the date and time. Yi combines the most essential dash cam features into a small device at a nearly unbeatable price.
The Good
Most important dash cam features in a $48 device.
The Bad
Yi Dash Cam
Ars Technica may earn a commission on this sale.
Best with front and rear cameras
DDPai X2 Pro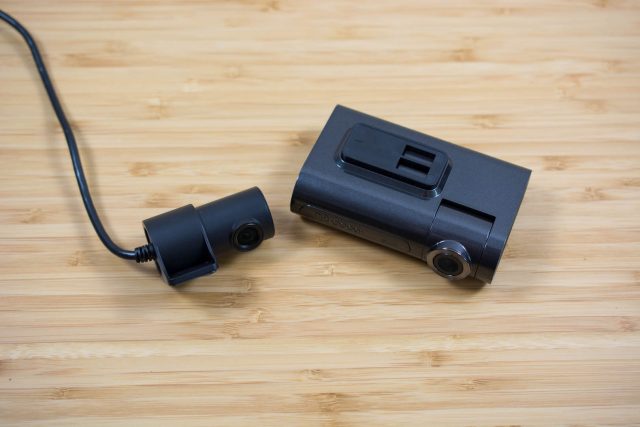 Specs at a glance: DDPai X2 Pro
Price
$299
Camera quality
Front: 1440p at 25fps

Rear: 720p at 30fps

Field-of-view
Front: 140 degrees

Rear: 120 degrees

Audio recording on/off option
No
Display
No
GPS
Yes
MicroSD card
Up to 128GB
Loop recording
Yes
Operational temperature range
-4°—158°F
Mounting method
Front: Adhesive

Rear: Adhesive

Power source
Car power outlet (with lithium-ion battery for parking mode protection)
Warnings
Incident detection (G-sensor), parking mode
Voice commands
No
Mobile app
Yes, for footage viewing and social network
Sometimes it's worthwhile to have eyes on the road ahead and the road behind you, and the DDPai X2 Pro dash cam covers both areas well. The front-facing camera records 1440p video at 25fps with a 140-degree FOV, and the rear camera records video at 720p at 30fps.
The main camera records the best footage, but the rear camera's footage has enough clarity and brightness in both daytime and nighttime situations to capture important information. With its high resolution and just-right FOV, the main camera records the road in front of you clearly, with bold colors and good brightness (save for rare, overexposed parts of the video).
There's nothing about the X2 Pro to distract you, either—its design is similar to a flat deck of cards, and it has no digital display to fuss with. It'll easily disappear behind your rear-view mirror, and the rear camera is nearly unnoticeable after you install it on your rear windshield. The camera also comes with a snapshot button that sticks to your steering wheel or somewhere else close by so you can quickly take photos with the main camera.
The DDPai mobile app acts as a portal to the company's makeshift dash cam social network, allowing you to quickly share video clips from your device with the world. If you ignore the social aspect of the app, it's still quite useful—you can access all video clips recorded by the device and see your "Tracks" history.
Tracks uses the device's GPS to map your driving routes and rate your driving style with a number from 1 to 100, depending on how well you drive (no speeding, no fast brakes, etc.). You can review any driving route track to see exactly how fast you were going in real time. This is a great feature for those who want to learn more about their driving style, those who have to drive a lot for work and want a record of their trips, and parents with driving-age children they want to keep an eye on.
The Good
Two cameras with decent video footage capture everything in front and behind your car.
The Bad
DDPai X2 Pro
Ars Technica may earn a commission on this sale.
admin
October 22, 2020