Tesla stock falls 12% after NTSB announces fatal crash investigation
The National Transportation Safety Board announced on Tuesday that it is investigating a fatal car accident involving a Tesla vehicle, which occurred in Mountain View, California last Friday. Tesla stock lost 8 percent in trading yesterday, and it was down an additional 4 percent in early trading on Wednesday.
"Unclear if automated control system was active at time of crash," the NTSB wrote. "Issues examined include: post-crash fire, steps to make vehicle safe for removal from scene."
Here is the scene on Highway 101S in #MountainView where a #Tesla caught on fire pic.twitter.com/ksnidlFgsw

— Dean C. Smith (@DeanCSmith) March 23, 2018
Tesla provided some context about the crash in a Tuesday blog post after the NTSB made its announcement. "The reason this crash was so severe is that the crash attenuator, a highway safety barrier which is designed to reduce the impact into a concrete lane divider, had either been removed or crushed in a prior accident without being replaced," Tesla wrote.
The company provided images comparing the way the attenuator is supposed to look with what it looked like the day before the accident: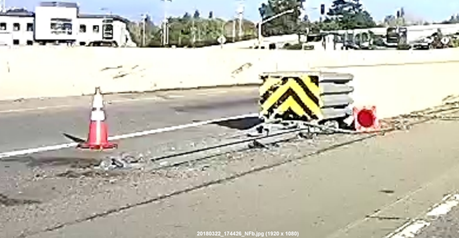 Tesla says that it hasn't been able to retrieve the vehicle's logs due to extensive damage to the vehicle. The company says that "Tesla owners have driven this same stretch of highway with Autopilot engaged roughly 85,000 times" since 2015.
Tesla says it has carefully designed its batteries to minimize the rate at which fires spread through the vehicle in the event of a crash. "We understand there were no occupants still in the Model X by the time the fire could have presented a risk," Tesla claims. Tesla says that "a gas car in the United States is five times more likely to experience a fire than a Tesla vehicle."
A previous NTSB investigation into a fatal Autopilot crash in 2016 found that poor user interface design contributed to the death of Tesla customer Joshua Brown. Brown ignored repeated warnings to put his hands on the wheel in the minutes before the fatal crash, but the NTSB concluded that Tesla's software could have done more to force drivers to pay attention while Autopilot is engaged. Tesla has since tightened up this aspect of the Autopilot design, making it more difficult for drivers to take their hands off the wheel for an extended period.
Listing image by Dean Smith / Twitter
admin
October 22, 2020