Apple unveils privacy controls amid Facebook scandal
Apple is stressing privacy in its latest operating system updates – in sharp contrast to Facebook which is battling allegations of mishandling users' data.
Ahead of the EU's General Data Protection Regulation (GDPR) being implemented on 25 May, the Cupertino-based company has included new privacy controls in its iOS 11.3 and macOS 10.13 updates released on Thursday.
Although the updates come ahead of a regulatory change – and Apple says they were more a matter of explaining to users what control they already had – they stand in stark contrast to Facebook's policies regarding user data.
Facebook has been embroiled in controversy after a whistleblower accused it of allowing an academic researcher to harvest the data of 50 million users via quizzes that their friends had taken.
The alleged illicit acquisition of user data is being investigated by authorities in the US and the UK, and has seen the company shed tens of billions of dollars from its value.
Mark Zuckerberg has promised such data access is now restricted, and will be restricted more in the future, but is under pressure to answer questions by legislators.
On Wednesday, Facebook said that it will be "proposing updates" in "the coming weeks" to its terms of service that will make how it collects and uses people's data more transparent.
The social media platform also announced a revamp of its privacy controls, but does not offer increased control of user data.
It is that level of control which remains in stark contrast to iOS, which is most noticeably now being updated with a new "Data & Privacy" icon and branding.
The page below will appear after users update their phones, and the icon will show whenever iPhone users are interacting with an Apple service that collects their personal data.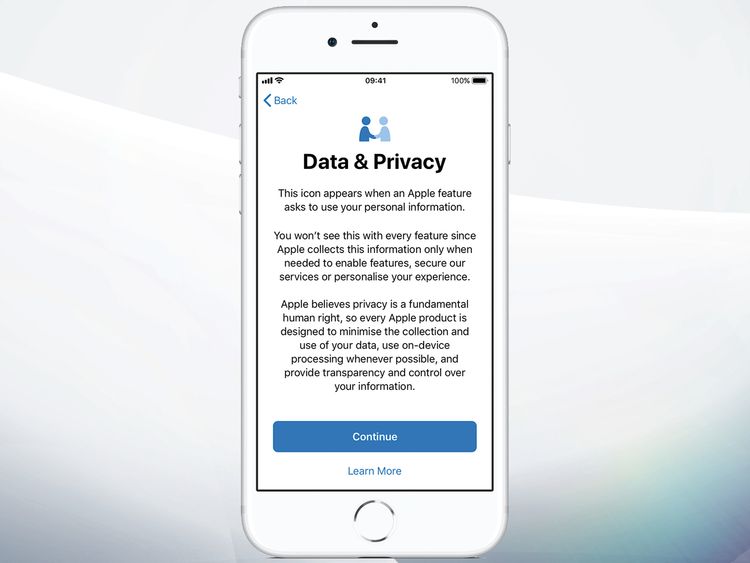 It will be accompanied by a prompt offering users to "see how your data is managed" – allowing them to find out what data is being collected and what it is being used for.
Apple said its user interaction engineers worked to ensure that this was not as much of a nuisance as EU legislation on cookies turned out to be.
An additional website update due in May is set to offer users a new privacy management tool from which they can choose to download any of the data that Apple services hold on them.
They will also be able to use this tool to correct any of that data, and to deactivate or delete their accounts.
Account deletion will take up to seven days as Apple's fraud team assesses whether the request is genuine, because the data will not be recoverable if it the deletion request was sent by a malicious actor.
More from Apple
Facebook recently denied collecting the call and text histories of a number of Android users without their permission, claiming that those users had indeed granted Facebook permission to harvest those details from their phones.
Apple says that its consent prompts mean that these details which Android users found were uploaded to Facebook are blocked off on Apple devices.
admin
October 22, 2020