Jaushua Sotirio proved a point on Friday night but he says it was more to himself than the legion of Western Sydney Wanderers fans who regularly take their frustrations out on him.
Making his first A-League start in five matches, winger Sotirio scored his side's second goal in their 2-0 victory over the Central Coast Mariners at Spotless Stadium.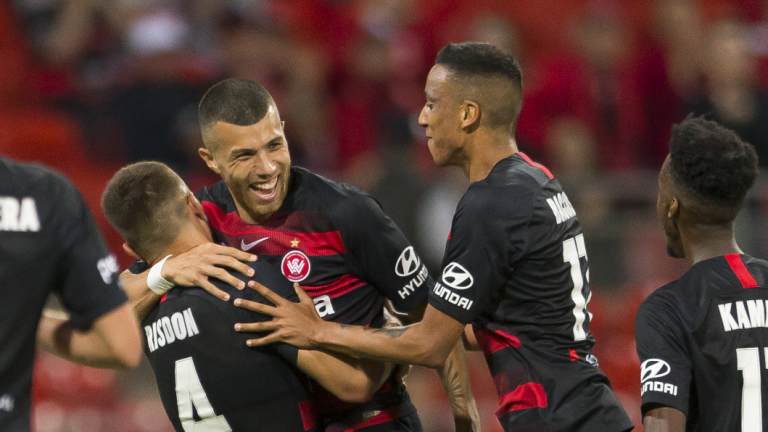 It wasn't much: a simple tap-in from a ball that came loose after Ben Kennedy's save to deny a long-distance shot from Bruce Kamau. But it meant the world to the under-fire Wanderers, who can now take some genuine momentum into next weekend's Sydney derby at ANZ Stadium, and to Sotirio from a personal perpsective.
Rightly or wrongly, it is a reality of professional sport that many teams have a naturally assigned punching bag for supporters. Brett Holman used to be it for the Socceroos until that unwanted mantle was passed on to Robbie Kruse. For the Wanderers, it has long been Sotirio.
Advertisement
Social media lights up whenever the 23-year-old fluffs an opportunity with a heavy touch or off-target attempt on goal. It's in the back of Sotirio's mind every time it happens.
Coach Markus Babbel knows it too and used it to his advantage. It's understood Babbel pulled Sotirio aside before the Mariners clash, told him there were a large proportion of Western Sydney fans who don't believe he should be in the team, and said it was up to him to prove them all wrong.
One goal alone won't do it, but the Wanderers and Sotirio will both be better for it if he takes the same attitude into every match.
"He said just be confident in what you do. You've got the potential. He pushes everyone, he tries to get the best out of everyone," Sotirio said of Babbel. "He goes hard on the players. It's good, it's all for a positive outcome."
Sotirio came off in injury time to a rousing reception from the crowd at Spotless.
"It was a good feeling," he said. "They've been on my back at the start of the season or whatever. I just proved it more to myself than to them.
"You can't take too much notice into what people are saying. Everyone's always going to have opinions. As long as you know you're doing the right things, that's all that matters.
"I've got some friends who tell me when people have been writing stuff like that, negative comments. Subconsciously it does play a bit of a part. But you try and be strong mentally and try and overcome it. You have to show it out there on the pitch."
The victory was just the second of the season for the Wanderers, who bounced back in style from a 4-0 trouncing against Melbourne Victory. Babbel criticised his troops for playing with fear in that match – something he couldn't understand given the lack of relegation in the A-League.
Their reaction suggests they may have learned a valuable lesson. Or perhaps the Mariners were simply woeful opposition who made them look good. Another meeting with Sydney FC should provide some clarity.
"When you play without fear and you play with confidence, anything can happen," Sotirio said.
Vince is a sports reporter for The Sydney Morning Herald.
Most Viewed in Sport