'Disdain': Anger as Broken Hill pipe business case finally released
The justification for the $500 million Broken Hill water pipeline prioritised irrigators and all but ignored the environment, according to the project's business case that has finally been released by the government.
The so-called Final Business Case for the Broken Hill Long-Term Water Supply Solution was handed to independent MP Justin Field after multiple "calls for papers" and requests since its proposal in 2016.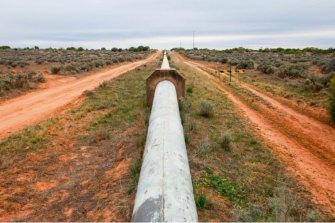 While the report underscored the water security benefits for Broken Hill, it also highlighted how supplying water to the city from the Murray River would free up extraction for irrigators upstream.
Instead of tapping the Menindee Lakes, the city has, since March, been drawing water from near Wentworth in the 270-kilometre pipeline. The project would avoid "costs of water embargoes on Northern River irrigators", when they cannot pump from the river during periods of low flows – such as now.
Advertisement
The value from the related Menindee Lakes Water Savings Project that could then proceed, because Broken Hill no longer needed the system's water, was put at $120 million, the business case said, citing the Cotton Growers Association.
About 50 billion litres a year could be kept for their production.
The use of buybacks to purchase water rights from irrigators was not among the five options considered by the government.
"Anyway you cut this, the pipeline is a half-billion dollar gift to Northern Basin irrigators," Mr Field said, adding that the irrigators would have their hands out for more water, which was "a disaster" for the Darling River.
Jane MacAllister, a Wentworth Shire Councillor, said she was "on the verge of tears" reading the business case, saying it confirmed many of her concerns about how communities on the lower Darling were ignored.
"They have been treated with complete disdain," Ms MacAllister said. "It feels to the people of the lower Darling that they are to be depopulated."
A spokeswoman for NSW Water Minister Melinda Pavey said the government had "aimed to find and deliver a long-term solution to drought proof Broken Hill's long-term water supply", adding the pipeline had been completed on time and on budget.
The "most significant beneficiaries" were the people of Broken Hill, who would have run out of water by the beginning of 2019 without the pipeline.
However, Darriea Turley, the mayor of Broken Hill, said she didn't understand "why the government couldn't stand behind its business case", and make it public years ago.
"It confirms everything we've been fighting for about the state of the Darling, its impact on the environment and Indigenous values, and on the region's small communities," Ms Turley said.
The business case indicates there was no attempt to gauge the environmental impact of draining the Menindee system, nor the impact of clearing trees, other vegetation and wildlife to make way for the pipeline, Ms Read More – Source