WarCraft III Reforged: Not the flavor of chaos we were hoping for
The more I look at this week's launch of WarCraft III: Reforged, the more I shake my head. I've grown up playing Blizzard games for a majority of my life, and while I can think of Blizzard game launches with technical issues or critical shoulder-shrugs, I can't recall a retail launch for a product that, quite simply, wasn't finished. WC3:R changes that.
What's more, the uneven and problematic changes to this "reforged" 2002 game come with a bold, new step for Blizzard: the official sunsetting of a classic game's client. The original code base, which has remained roughly 1.3GB in size after an expansion pack launch and years of patches, has been pushed aside. Anyone who already owned an official WC3 license is prompted by Blizzard's default game launcher to download the new 26+ GB version to play online, whether or not they pay an additional $30 for its GBs of "reforged" content.
Worse, between a new Terms of Service requirement and a number of features removed from the previous version, it looks like the game's online ecosystem—the very thing that kept the game afloat for decades and earned a glowing retrospective from us only days ago—may be gone for good. Pardon my English, but, what in the freaking world is going on, Blizzard?
Beautiful new visuals—but not applied evenly
A comparison gallery of new and old graphics. Here's WarCraft III in "reforged" mode.

The same scene in "classic" mode.

A cut scene in "reforged" mode.

A cut scene in "classic" mode.

A cut scene in "reforged" mode.

A cut scene in "classic" mode.
A surface-level review of WC3:R may make you wonder what all the grousing is about, especially if you just want to play the game's single-player campaign. It's easy to grab screens of the game's original 2002 characters, then place them directly next to their updated, higher-polygon versions, and give the "Blizzard Classic" dev team an unadulterated high-five. As a zoomed-out real-time strategy (RTS) game, 2002's WC3 could get away with some decidedly rough 3D designs, particularly for Blizzard's first foray into fully rendered 3D characters. But in 2020, we're well past the original game's resolution maximum of 1280×1024, and that means Blizzard had serious work to do for one of WC3:R's selling points: scaling up to arbitrary monitor resolutions and looking good when doing so.
Alas, the updated EXE launched with a forehead-smack of a failure on that sales pitch: broken ultra-wide monitor support. In the immediate aftermath of the WC3:R patch going live, forum posters cobbled together a makeshift solution to get ultra-wide resolutions working, albeit with unoptimized results. On launch day, Blizzard customer service reps posted statements of disbelief about this ultra-wide issue in the technical support forum, which implies that the company intended to roll the feature out (and may very well fix it).
While fiddling with the new build's options menus to test arbitrary resolutions, meanwhile, I noticed this curious addition:
If you would like to remap any buttons in WarCraft III: Reforged, you are instructed to open and modify a .txt file. The instructions mention that this can be found in a "Beta" folder, even though this is not a beta client.

The .txt file in question points users to an "instructions" file that doesn't appear to have been installed on my system.
As the above captions clarify, the key-remapping interface has not been "reforged" in the slightest.
Anyway, back to the updated graphics. The problem with WC3:R's visuals comes less from individually updated assets; it's all but impossible to compare individual 3D models between the old and new versions and state that the older ones are superior. Rather, the issue boils down to how all of these new assets come together on the battlefield.
This gallery is dedicated to scenes that show off the flatness of the updated graphics mode.

There's just something about the way terrain slots together that feels bland and flat, in spite of individually rendered blades of grass and the like.

I wish someone from the Diablo team had pitched in to help with the underground dungeon scenes; their lighting is particularly flat.

Watery walking paths are a lot more difficult to discern this time around, and this reality makes returning to base after hunting for NPCs and treasure that much trickier.
The new presentation comes with a flatness that wasn't present in the original lower-poly game. Color saturation sees the terrain's soup of green and blue blur together, without any recognizable boost to unit or terrain clarity offered by details such as individual blades of grass. The lower-poly version at least made its roads, cobblestone paths, and other game-world clutter more discrete for the sake of instantly recognizable paths and obstacles. This arguably came because of pre-baked lighting systems, which, for example, added wild light bounces to spell effects so that any nearby enemies and buildings would glimmer in their wake. WC3:R's new physically based lighting model sounds good on paper—that's what modern games do to look realistic, right?—but as a part of the original game's bright-and-bulky aesthetic, this lighting model honestly falls flat (pun intended).
The old idiom "missing the forest for the trees" keeps coming to mind—as if the Blizzard Classic team split its artists up into separate camps and assigned them various units in isolation. The results, which include impressive mouth-animation systems and entirely new foliage-rendering systems, look like a talented team's fruits of labor lost in a soup of badly guided production. Contrast differences between units, buildings, and terrain are too mild when seen from a bird's-eye view (meaning, the majority of your time in an RTS game). Foliage looks pretty in close-up cinema scenes, but its shapes and patterns don't stand out as well as they did in the game's original, chunkier version.
The original version of WarCraft III put shadows on all NPCs, and bolder shadows on your controlled party.

This image from WarCraft III: Reforged, on the other hand, removes shadows from NPCs entirely. And your party's shadows are much milder.

The original WarCraft III. All NPCs have shadows.

Again, WarCraft III: Reforged removes shadows from NPCs entirely. And your party's shadows are much milder.

Fog of war in the original WarCraft III.

And the same area in WarCraft III: Reforged. This comparison is harder to show in still images, as it doesn't show the weird animations attached in the 2020 version. But you can at least see the splotchiness and blue tint in the updated build's "classic" fog of war.
You can toggle the game's "original" graphics in this new version if you want, but the newer version of the old visuals currently includes glitched shadow and spell effects. I confirmed this by installing an older build onto a wholly offline PC (more on that later), which let me compare the two builds. In the game's early missions, I found that the "fog of war" effect has some issues on WC3:R's "classic" mode, both in how it awkwardly bubbles up in square-shaped blobs upon leaving and re-entering zones and in the fog's new unsightly blue-green tint. Even with all "classic" graphic settings cranked to "high," shadows no longer appear on any enemies, and if they're attached to player units, they've become a (cough) shadow of their former selves.
Whether these old-version graphical issues will be remedied is unclear, but at least as of press time, what worked for over a decade has since been downgraded by this overhaul of the game's EXE.
You can't spell BlizzCon without "con," apparently
Blizzard shared a bunch of tantalizing plans during WC3:R's first announcement, made during BlizzCon 2018, only to walk some of them back more quietly during the following year's BlizzCon. Weirdly, the features advertised in 2018 were never removed from the developer's official social media and YouTube channels, which may have fueled the sense of buyer's remorse that littered this week's forums and social media channels.
These included pledges to touch up the game's cinematic narrative sequences and modify its original user interface (UI). You can't type the word "Reforged" into a search engine this week without stumbling upon this fan-made comparison of the results:
Having played a few hours of WC3:R's campaign, it looks like the 2018 demo video and the final version align somewhat. Characters are posed in similar places as they speak between missions, and their bodies and mouths all have updated animations (and richly detailed ones, at that). The catch is, Blizzard has chosen to pull its in-game camera back from showcasing any of these changes. Blizzard's official answer during BlizzCon 2019 was to better resemble the original game. But I can't help but wonder if this was due to too many required models and environments needed to fill out the rest of these real-time cut scenes' backgrounds, since they dramatically moved the camera and exposed the game world's horizon.
Whatever the reason, it's a crying shame that the narrative sequences' updates have been so stymied. WC3, after all, saw the studio ramp up its storytelling ambition with full voice acting built into the game world in ways that set the tone for what World of WarCraft would deliver only a few years later. With that in mind, it's arguably better that Blizzard walked back its original plan to re-record and even rewrite the original game's dialogue in order to retcon WoW plot elements; of all the things I'd hoped for in a refreshed WC3, newly bolted plot elements weren't high on my list.
A tidier UI, on the other hand, would have been quite welcome, and I'm still puzzled as to why that system, which was demonstrated in 2018, wasn't included as an option. In particular, I would have loved for the game's inventory system, a first in a WarCraft game, to have been shifted to a more mouse-accessible position on the UI's far-right edge, and for various icons to shrink and shuffle around as might befit a default 1080p presentation.
A public pledge to remake the game's pre-rendered CGI sequences also fell through. It's a shame, but one that's arguably forgivable, since most of the game's narrative portions are built into the engine. That being said, the developer went to the trouble of remaking one of the original pre-rendered sequences, and… well… it's a spoiler if you've never played the campaign, but I've embedded it below. Watch it, if you dare.
Somehow, this looks cheaper and cheesier than the original in-game cinematic sequence, perhaps owing to the surprisingly low-budget look of this "new" pre-rendered video. Blizzard's reputation for high-end pre-rendered sequences takes a serious shot with this one.
No, these are not patch notes
The rest of the game's changes, downgrades, and issues are perhaps easiest to parse as a few bulleted lists.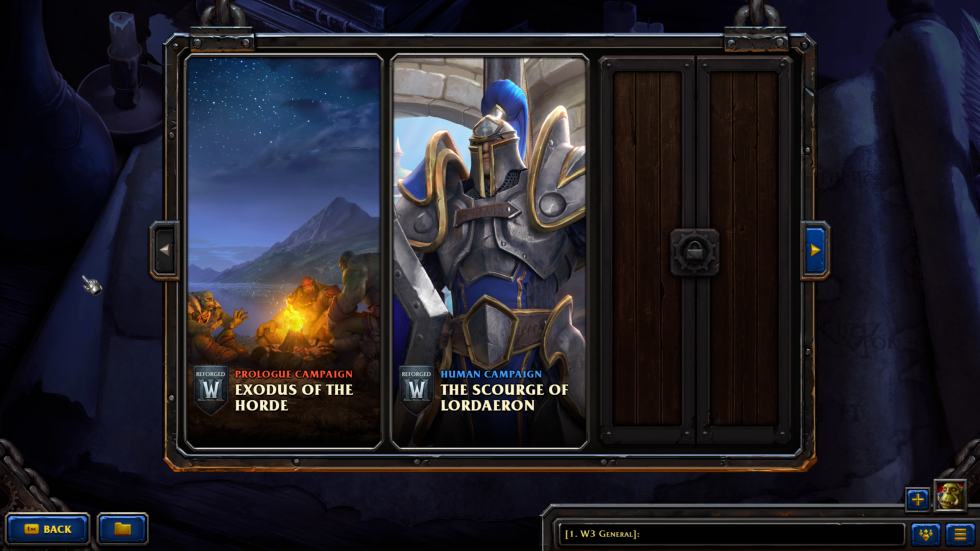 Campaign weirdness
admin
October 22, 2020