Organisers of illegal raves to face a £10,000 fine under new crackdown
Anyone organising illegal raves or gatherings of more than 30 people could face a £10,000 fine as tougher rules come into place in England next Friday.
Police have been dealing with a surge in unlicensed music events in recent weeks and the government plans to crack down on illegal gatherings ahead of the August bank holiday weekend.
Boris Johnson said the new rules would be introduced when he announced a further lockdown easing on last week.
People taking part in illegal raves, unlicensed music events or any other unlawful gathering of 30 people or more face a £100 fine.
Those who have already been fined will see the amount double on each offence, up to a maximum of £3,200.
Advertisement
Organisers face a heftier fine of up to £10,000.
The tougher rules follow reports of hundreds of illegal parties and raves across the country, with police being alerted to more than 200 events in London in a single weekend.
More from Covid-19
Metropolitan Police officers have responded to more than 1,000 illegal events in the capital since the end of June.
Elsewhere, West Midlands Police shut down 125 parties and raves – including one attended by up to 600 people – in one weekend.
Birmingham Police were called to more than 70 street and house parties and other unlicensed gatherings on Saturday night.
Police in Huddersfield broke up an illegal rave involving some 300 people and West Yorkshire Police tweeted they were called to the gathering in Deighton, where missiles were thrown at officers.
In Greater Manchester, where tighter lockdown restrictions have been in place due to a spike in coronavirus cases, police have reported breaking up wedding parties, raves and house parties.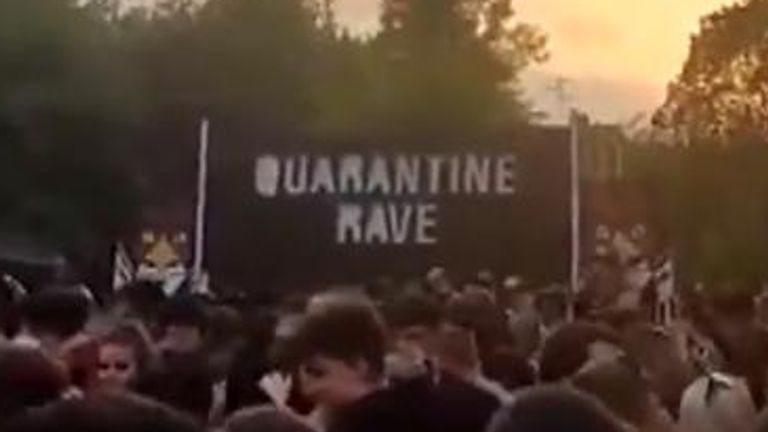 At two gatherings attended by thousands of people one night in Manchester, a man died of a suspected drug overdose and three others were stabbed.
The National Police Chiefs' Council said some aRead More – Source